He never returned. One night in August, there, off the coast of Iceland dark, amid a great noise of fury had celebrated his wedding with the sea.                                                               Pierre Loti, Iceland Fisherman
Patreksfjörður, Tálknafjörður, Grundarfjörður, Fáskrúðsfjörður, Skeiðarársandur … names that have marked the history of fishing « to » Iceland; some as places frequented by Britons and Dunkirk, others have been the scene of shipwrecks and strandings.
In this story, there remains little more than a few traces: marine cemeteries, graves scattered buildings, like the old French hospitals, houses works by sea or, from objects of exchange and most of shipwrecks.
These traces have guided our course « Iceland » in March 2003 period of the year once opened six to seven months of fishing.
Among the schooners in the region Paimpolaise a hundred were lost to Iceland or two thousand men. That mark the graves of Iceland, from west to east, show these men and relationships that united during one or more seasons in Iceland and Icelanders.
The portraits of objects illustrate these relationships, they talk more than they tell a story, sometimes behind the windows of a museum, sometimes in private.
These are indeed « living » in yet another object of life become, over time, the subject of family. While inviting us back in time, these objects tell us about cultural exchange and technical, and more often, the shores where they were born as objects washed up, children in a sea one day become monstrous.
Anthropology Vanessa Doutreleau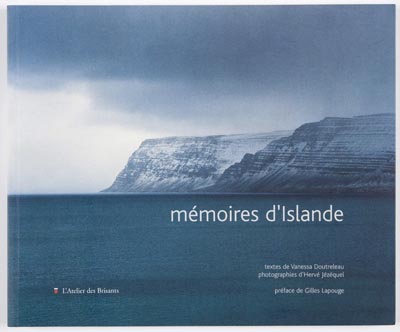 publishing atelier des brisants, 2012
Exhibition show in Paimpol, june- august 2003 and Alliance française, Reykjavik, june -july 2004. With Comptoir d'Islande, Ferðakompaníið et Icelandair.